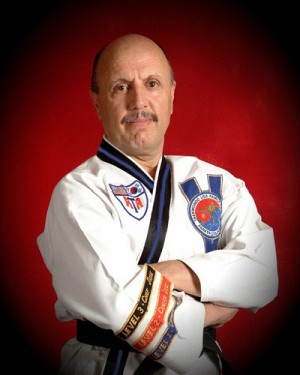 Chief Instructor Mr. Eddie A. Afyoni.
5th Degree Black Belt
At the age of 23, Mr. Afyoni began his martial arts career by studying the Okinawan martial arts. Three years later he achieved the rank of Brown Belt.
Eventually he began as a white belt in Taekwondo ( ITF ).
In 1986, Mr. Afyoni started ATA Taekwondo as a white belt and has been a practitioner ever since.
Rank Achievements
Received 1st Degree Black Belt in ATA, 1988
Received Instruction Certification in Seoul, Korea, 1991
Received 2nd Degree Black Belt, 1992
Received 3rd Degree Black Belt, 1995
Received 4th Degree Black Belt, 1999
United State Martial Arts Hall of Fame, Best Instructor, 2001
United State Martial Arts Hall of Fame, Master Instructor, 2004
Received 5th Degree Black Belt, 2004
Mr. Afyoni's Instructors
Mr. Glen Hicks, 4th Degree Black Belt, 1986
Mr. Bob Leppard, 2nd Degree Black Belt, 1987
Ms. Eva Baily, 2nd Degree Black Belt, 1988
Ms. Eva Spence, 5th Degree Black Belt, 2003
School Ownership
ABBA Martial Arts/Karate For Kids / Parker, CO, 2012 - Present
Taekwondo USA Family Center / Parker, CO, 1991 – 2012
Taekwondo USA Family Center / Elizabeth, CO, 1996 - 2001
Eastern Colorado Taekwondo Family Center 1988 - 1992